Already signed the petition?
Fuel the fight to shut down Pornhub.
Every dollar you give will help hold Pornhub accountable for enabling and profiting from the rape, sex trafficking, and exploitation of women and minors.
$10/month or more
Your donations are fully tax-deductible and go to Exodus Cry, a US 501c3 non-profit organization dedicated to abolishing sex trafficking and commercial sexual exploitation in Big Porn and beyond.
---
Become a Premium Partner for as little as $10 a month
For about $10/month Pornhub Premium enables its users to access ad-free rape and trafficking videos. For the same monthly amount, Traffickinghub Premium Partners will help take down Pornhub.
---
Your support will
Unleash an Awareness Blitz
We're exposing the truth about Pornhub—on a global scale—through prominent billboards, original artwork, piercing social media, revealing articles and videos, and an in-depth documentary film about the world's largest porn site.
Demand Justice
We're calling for swift legal action, with maximum penalties to the full extent of the law, against the many criminal acts being broadcast on Pornhub.
Support and Spotlight Survivors
We're amplifying the voices of the courageous survivors of trauma and abuse from Pornhub, as they inspire and lead our campaign in public and legal spheres, to see that they receive the justice they deserve.
Two ways to give
1
One-time gift
Your gift of ANY amount will make an impact. Give $50 or more and we'll send you an official Traffickinghub t-shirt.
2
Become a Traffickinghub Premium Partner
Your monthly support of $10/month or more keeps us in this long fight till the end. You'll receive an official Traffickhinghub t-shirt.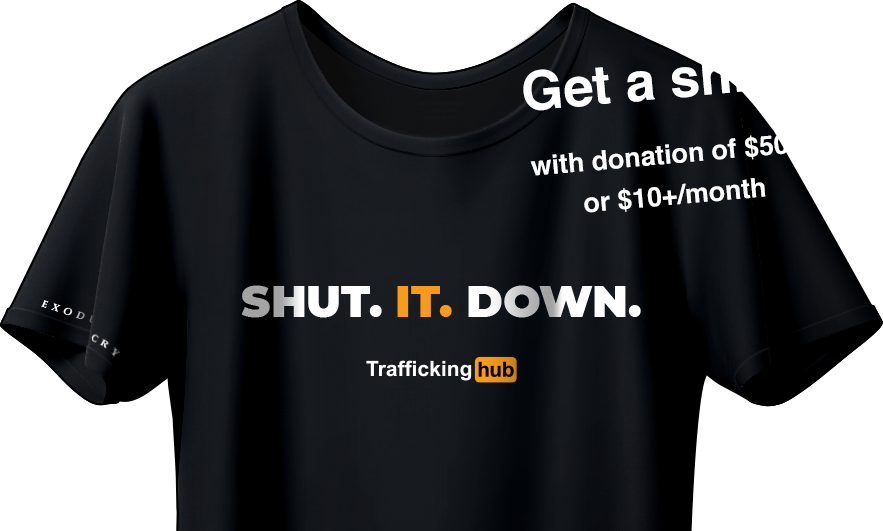 After you give online, you'll get an email requesting details on size and where to send your shirt. An international shipping fee of $16 applies to shipping addresses outside of the US.